Business Liquidations Results
Marketing is key to recovering top dollar on Assets. Auctions Work!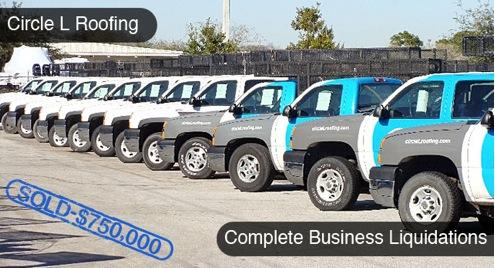 Circle- L Roofing
SOLD: $748,470
Sarasota FL
At the direction of a Florida bank receivership, Worley liquidated the rolling stock, equipment and inventory of Circle- L Roofing in Sarasota. This large auction included an entire fleet of trucks, as well as specialized equipment and materials.
---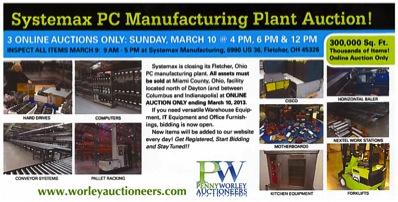 Systemax Manufacturing
SOLD: $638,527
Fletcher OH
Worley Auctioneers sold the 300,000-sf. contents of the nation's 3rd largest PC manufacturing plant over the course of five auctions that totaled $638,527.81.
These auctions included thousands of items including conveyor systems/ pallet racking/ lift trucks/ IT equipment/ and all the remaining bulk inventory.
Worley's strategic marketing attracted 287 unique participating bidders from 16 states plus Canada and Puerto Rico.
---
Front Row Sports Bar
SOLD: $162,070
Orlando FL
When TGI Friday's remodeled their restaurants, the Carlson Group awarded a national contract to Worley Auctioneers for the sale of FF&E- including this "Friday's Sports Bar" in the heart of Orlando.
---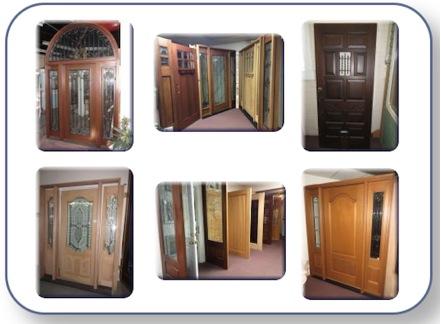 Indus Interiors
SOLD: $44,681
Cincinnati OH
Sharad Buddhdev created a niche market in the Cincinnati area, selling high-end doors and grand entrances to an exclusive clientele. When struck with an unexpected health emergency, he had to liquidate his equipment and remaining inventory on an accelerated timeline.
Worley Auctioneers worked day-and-night to catalog and market his assets. Despite having extremely short notice, contractors, companies, and DIY individuals competed in a bidding frenzy. The leased facility was timely vacated, and Worley Auctioneers insured it was broom-clean.
For over 20 years, Worley Auctioneers has sold building materials at live and online auctions- for entrepreneurs like Mr. Buddhdev and large companies like Nisbit Brower.
---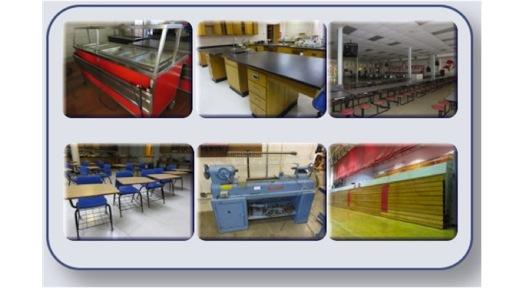 Princeton High School
SOLD: $260,000+
Cincinnati OH
Princeton's school board built a state-of-the-art high school and hired Worley Auctioneers to liquidate the contents of the old building across the street.
This 2200+ item auction of the 200,000+ square ft. facility was monumental. Everything sold: desks & lockers; boilers, doors, cafeteria equipment, bleachers- even the gym floor.
Worley obtained optimal realized prices and ensured an efficient and timely removal of assets and salvage.
---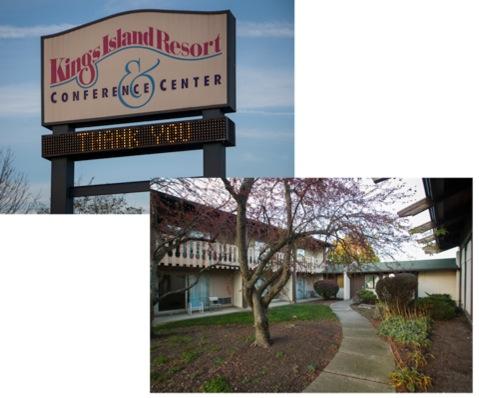 Kings Island Inn
SOLD: $236,072
Mason OH
For over 40 years, the Kings Island Inn was the hotel of choice for visitors to the iconic amusement park. Just prior to its demolition, Worley Auctioneers managed the sale and removal of furniture, fixtures & equipment- as well as scrap and architectural salvage- from the main hotel and it's surrounding chalets.
Worley marketed the assets to salvage companies, other hotels, and the local community- realizing top dollar on everything from furniture to fountains; from beds to boilers.
---
Bradford Heirs' Auction
SOLD: $113,912
California KY
Small diesel shop and trucking business in California KY ordered sold by heirs. The surviving spouse wrote in her feedback: "Thanks to you and your staff for all the work that they did out here for the Auction. They are all such hard workers and just really great guys. I appreciate the detail and the positive attitude that I saw displayed while they were doing the set up and also when the customers were here for preview and pick up."
---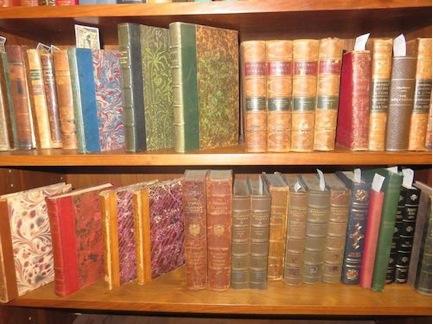 Dust Jacket Rare Books
SOLD: $23,588
Legendary local bookstore closed after 35 years. The auction featured 10,000+ used books- including many rare and 1st editions. Owner Mary Ann Jeinke writes: "We were with the auction of our small business. Your staff were so helpful and so knowledgeable. It was emotionally very difficult for me to have to close the business. However, it was very reassuring to have your team put my mind at ease that all would be well. They were very professional and very thorough. Very happy with the results!"
---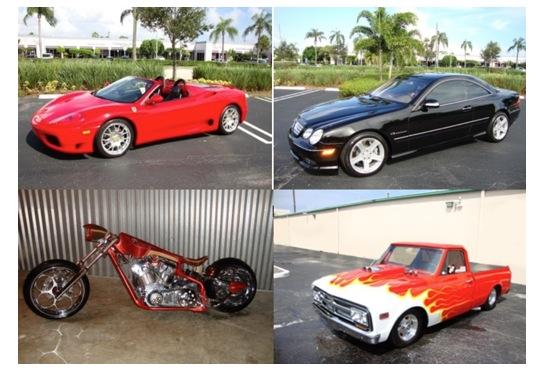 Exotic Car Auction
SOLD: $129,375
Boca Raton FL
Sold on behalf of the FDIC as Receiver for New Frontier Bank, this auction featured a FERRARI – Red (Rosso Corsa 322 D.S.) 360 Spider F1sold for over $70,000; Von Dutch Custom Motorcycle; MERCEDES-BENZ CL55 AMG BRABUS K8; and 1968 Chevy Drag Truck
---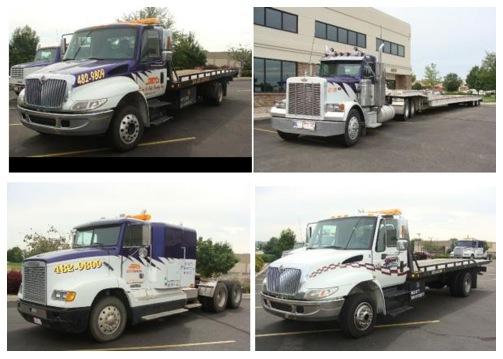 New Frontier Bank- Tow Truck Fleet
SOLD: $343,132
Greeley CO
Entire Fleet of Tow Trucks; 379 PETERBILT Semi with Heavy Hauler Trailer; Dozens of Bank-Owned Trucks and Cars
---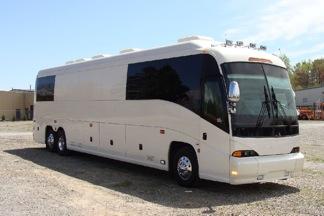 OmniBank- Coach Bus and Rolling Stock
SOLD: $627,037
Alpharetta GA
Sold on behalf of the FDIC as Receiver for OmniBank, these recovered assets included a famous rapper's tour bus; PETERBILT Tractor and a half dozen KENWORTH Tractors.
These assets, featured on BLOOMBERG among other media outlets, attracted 44 bidders from around the country.
---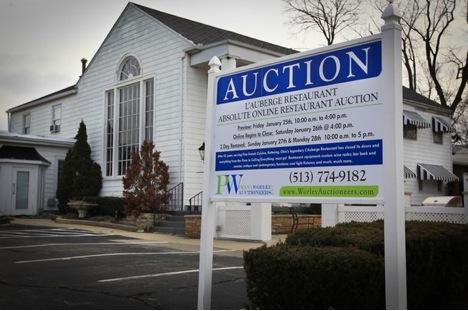 L'Auberge Restaurant
SOLD: $96,381
Dayton OH
A community bank ordered the sale of the contents of Ohio's last and longest-running Four Star restaurant.
This 600-item auction was featured on FOX 45-Dayton and included European decor, custom wine racks, fine crystal, kitchen equipment and more!!
256 Unique Participating Bidders and Nearly 150,000 Page Views
---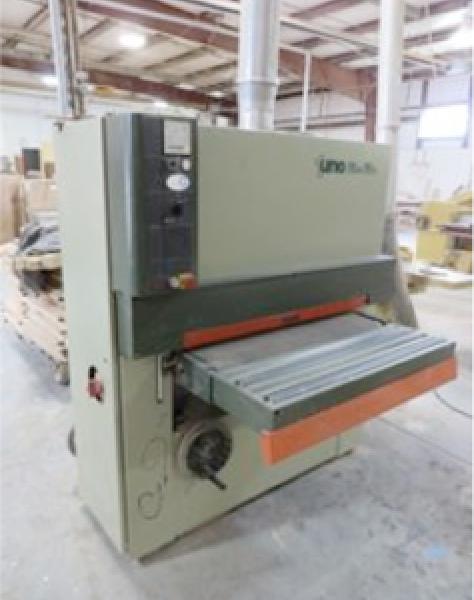 A.D. Woodworking
SOLD: $121,753
Cincinnati OH
A local custom cabinet-maker retired and Worley Auctioneers liquidated his showroom and shop. This auction featured heavy-duty machinery, racking, exotic lumber, high-end cabinetry and more!!
The marketing campaign reached out to his industry and beyond through a colossal postcard; print ads in "Machinery Trader" and other publications; and a widespread digital marketing campaign.
---
Ron Hilen's Classic Cars
SOLD: $410,949
Cincinnati OH
After more than 40 years in business, Ron Hilen was ready to retire. He turned to Worley hoping to get top dollar for his classic cars, parts and commercial real estate. And he did.
Worley Auctioneers conducted three online auctions, aggressively marketing the assets through print and digital media.